Glowy skin hacks
Everybody wants to have a glowy skin, that perfect sunkissed face (even if we can just fake it). Everybody wants to have a healthy looking skin and hide all the little problems that we have in there.
There are some of my glowy skin hacks that I use everyday to make my skin shiny and glowy! And I guarantee, there is nothing that complicated or expensive in there! You can use dragstore or luxury brands : in both cases your face will thank you.
If you still want to have that glowy skin than check out all the hacks that I have there!
1. Always apply moisturizer before foundation! But first, toner!
First thing I do in the morning is washing my face and apply a facial toner which cleans the makeup residues that you may still have on your face (even if you removed your makeup 3 times the night before). It also calms your face, make it fresher and cooler. You will also notice a huge amelioration of your skin by using a toner for a couple of weeks : less imperfections and a glowy face without any makeup! The one that I use is from Rituals : Ultra calming facial toner (alcohol free) with calming botanical extracts. It is a pure magic on my face when I wake up in the morning and also it smells so good!
Than, before applying your foundation or any makeup, moisturize your face! Currently I am using the Olay feather weight moisturizer which is also SPF 15! It is so good to protect my skin from the harm of makeup products and also from the sun. It is my little life-saver for summer.
2. Mix foundation and concealer with your moisturizer
I think everybody hates the cakey foundation effect on our faces when all we want is actually to make it glowy. Also, if you have a dry skin, this hack will safe your life! All you have to do is to mix your usual moisturizer with your foundation or even your BB cream and you can say adios to the cakey foundation look on your face. By mixing those products together your face will look healthier and natural, by actually covering up your imperfections. I like mixing my foundation with my Erborian Glow Creme or with the Olay one. Currently I use several foundations, not just one, and some of them are the Laura Mercier photo edition foundation and the Max Factor miracle touch. Both are covering the imperfections very well, but the second one has a little sponge inside which is so useful when you travel with a tiny makeup bag or just for some touch-ups during your day.
3. If you don't have acne or pimples to cover, use a BB or CC cream instead of foundation
This is actually my favorite! I avoid using foundation when I have nothing to cover up or when I am not going to an event or somewhere where I'll end up having 50 photos of me.. Well, what I want to say is just use a BB or CC cream to harmonize your skin tone, cover up the redness, etc. A foundation is heavier than a BB or CC cream which gives you the same glow! My favorites are the Erborian CC cream - High Definition Radiance Cream Skin Perfector; Tahe - base de maquillaje 3in1; Tahe BB matt cream and finally, the Algenist repairing tint & blur moisturizer with SPF 30.
4. Apply an eye cream before concealer
Apply an eye-cream to protect your under-eyes from the concealer. I am using since a couple of years now the Estée Lauder Revitalizing Supreme eye-cream and it helps to avoid early wrinkles near your eyes and also helps you to get rid of eye-bags.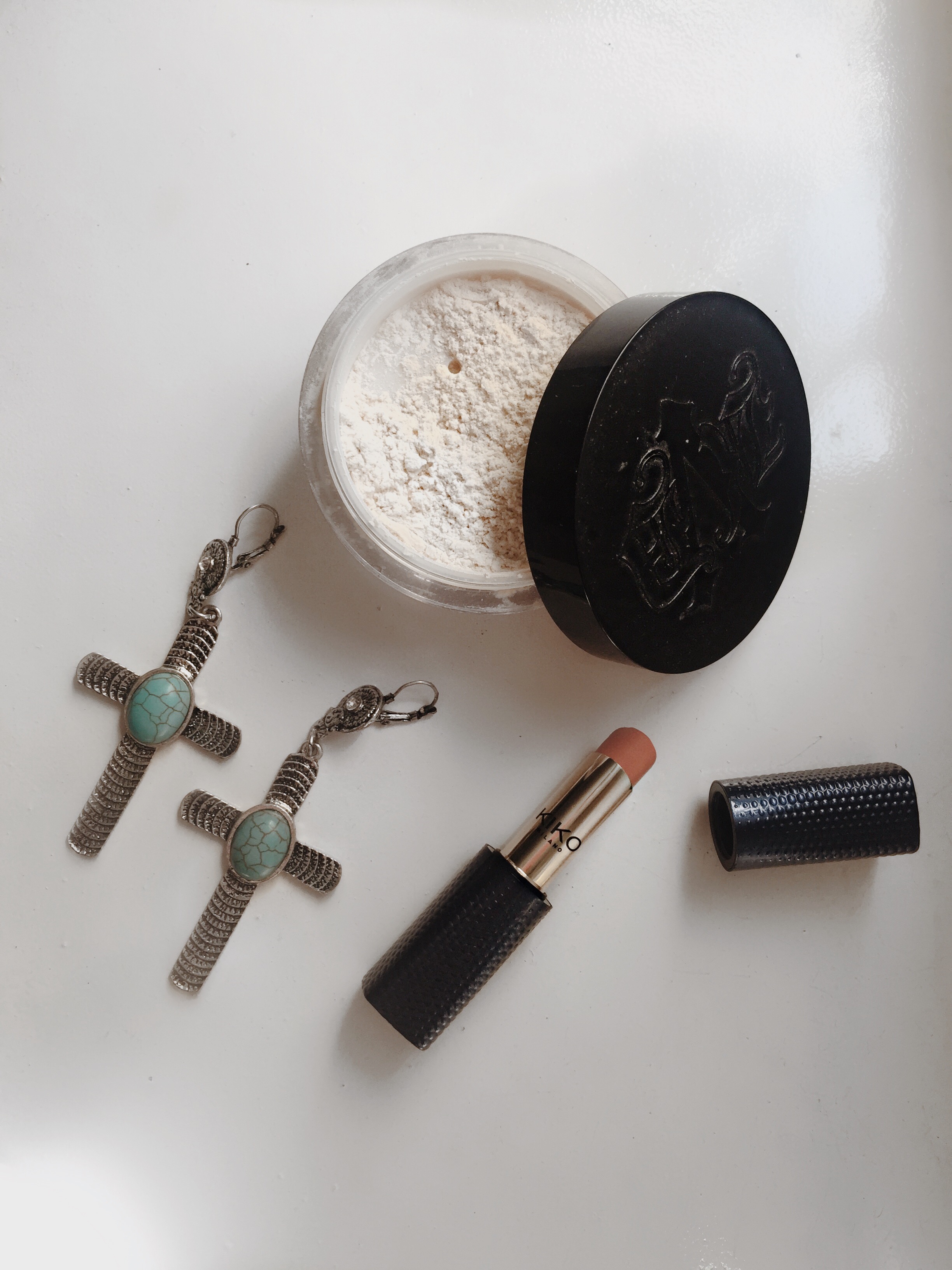 5. Use a translucent powder on the T zone
This is a lifesaver one, especially in spring-summer! It's a great product for both dry and oily skins, but I think that it's mostly used by the people who have oily skin. Using a translucent powder helps you to avoid that sweaty, shiny face and also is great to set your makeup and keep it in place all day long! Just tap a small amount of powder on the T zone of your face or just do the baking thing if you want to do all the contour/highlight thing. The one that I used since the beginning is the Kat Von D one and it's so amazing! I am using it for more than a year now and I still have a looot in the package!
6. Blush instead contour
If you want to look glowy and natural, than avoid contouring, or if you still want to contour, than do it as less as possible! Instead of contouring, use a cute blush, the color of your choice would be perfect! You can choose a creamy one, a blush stick or a powder blush. I currently use a cream blush (Primark) and a powder blush (L'Oréal). You don't have to pay lots of money to afford you a good blush, even the Primark's P.S cream blush is perfect! (you can check all the products list that I use at the end of this article!)
7. Use a sparkly eyeshadow to make your eyes pop
Smokey eyes aren't the best choice for you if you want to have a glowy, natural look. The good choice will be to choose a sparkly eyeshadow to make your eyes pop. You can do a light smokey eyes look by using that sparkly eyeshadow of your choice (it should be a light one, not like a navy sparkly eyeshadow por example) or just put that color all over your eyelid. I love the few sparkly colors that I have in my Zoeva - Caramel Melange palette, especially the color called "Almost Burnt".
8. Highlight
Most people say "If I could put a highlighter all over my face, I would" and I say the same! This is THE hack to make your face pop and glow even without much makeup. Use a little bit of highlighter on the inner corners of your eyes, on your forehead, on the cupid-bow, on the outer corners of your cheeks and on your chin. You can also use it as a sparkly eyeshadow on your eyelids! My favorite one is the one from The Balm cosmetics : it stays in place all day long! Also, put a little bit of highlighter underneath of your eyebrows : I use the highlighter pencil from Primark, it's so handy to highlight your eyebrows without using a brush.
9. Define your eyebrows
This is an important one for every makeup look you want to achieve. If you create a great makeup look but your eyebrows are not defined, not filled, it wouldn't look great at all. But if your eyebrows are full enough, than you can skip this step. Use a brow pencil or a creamy product by using a brush to define your eyebrows and give them the style that you like! My favorite one is the Benefit's foolproof brow powder which comes with it's tiny brush : so handy! This is not a cheap one, but it's so worth it! It stays in place all day long and you'll have defined brows until you remove your makeup : no matter if you sweat or not.
10. Use a little bit of bronzing powder for a sunkissed glowy effect
If you still want to contour your face and still make it natural, than use a bronzing powder. Use it or as a contouring product or as a blush : both will give you a glowy sunkissed looking face. I use a bronzing powder from Bourjois called Mat illusion (it also smells sooo good). You can find it in drugstores or at Bourjois's website and it's so worth it. You can set it on place by just spraying a makeup fixing product on your face to avoid ending up without makeup in a few hours...
11. Use a gloss or a nude lipstick
For a glowy natural makeup look you shouldn't choose a dark lipstick, it'll hide all the glowy effect of your face. Instead use a gloss or a nude lipstick. I prefer using a nude lipstick, for example the Kylie Cosmetics - In love with the Koko - Bunny. It goes well with every makeup look I create and the color is just so cute. I never used a color like that before and was sure that it wouldn't look great on me but I ended up LOVING it! It's a great quality product and stays in place all day long, even after eating.
12. Gently massage your face : with a face brush or a face cloth while removing your makeup
No need to remind you that removing your makeup before sleep is crucial to have a healthy skin! Also, every night, massage your face with a face brush or a face cloth by adding a little bit of face cleanser on it. My favorite face brush is the one from Foreo : it's not cheap, but it's so handy and it does it's job perfectly! By massaging your face you'll notice how it changes, looks healthier and glowy week by week.
13. Exfoliate once a week to avoid drab looking skin tone
It's another skincare hack to achieve having a glowy and healthy skin. By exfoliating your skin using a facial peeling product and a face mask you'll get rid of dead skin and your skin tone will become lighter and uniform. I love using Rituals - The wonder mask and the Masque Detox - argile pure by L'Oréal. And as a peeling product, I love the one from Phytomer - Peeling vegetal.